There are so many skincare products on the market nowadays. They all claim to give you soft, nourished, and clear skin. Most fall short of the claims and end up giving you rough, dry, red, and irritated skin, even breakouts!
I have tried multiple skincare products over the years (chemical and natural) and nothing has worked quite like the natural skincare products I'm sharing in this post. Sometimes simple is better.
Just to give you an overview of my skin. I have light skin that is easily irritated and prone to redness. I've been doing this routine for a while now and it works really well.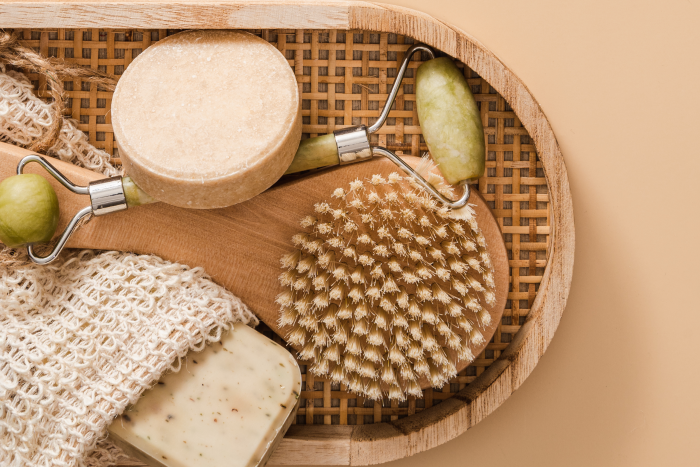 natural skincare with Dry Brushing
I started dry brushing a year and a half ago and I wish I would have started sooner!
What in the world is dry brushing? I'm glad you asked 🙂
Dry brushing is an outer form of detox. It removes dead skin cells, reduces inflammation, stimulates circulation, and helps drain the lymphatic system which helps to remove cellulite.
I used to have cold hands and feet constantly even in the hot summer months. After I started dry brushing, I don't have that problem anymore.
So how do you dry brush? – Before jumping in the shower, Using a natural bristle brush, start at your feet and brush in an upward motion toward your heart. Repeat this motion 6-10 times before moving on to another portion of your body.
Brush your stomach in a counter-clockwise motion to help with digestion.
When you reach your chest/neck, start brushing down toward your heart.
It's easy to do and you can do it every day if you wish. I do it once a week.
Witch Hazel
I love witch hazel! You can use it on everything from cuts and scrapes to cleaning your make-up brushes. I use it as a toner before bed and in the morning.
It's an astringent that helps reduce inflammation and tighten pores while removing bacteria, dirt, and oil.
Apple Cider Vinegar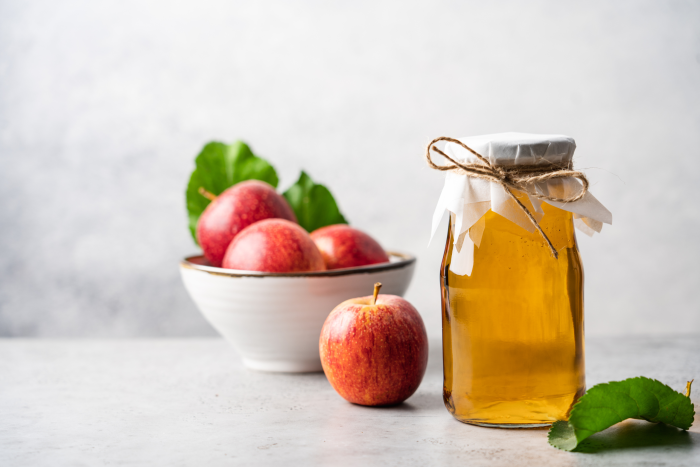 Am I the only one who isn't grossed out by the smell of Apple Cider Vinegar? It used to gross me out, but I think I use it too much because I actually think it smells good.
I use this amazing stuff in my hair. After washing with shampoo and rinsing, I put AVC on my head and combed it through with my fingers. Before I get out of the shower, I turn the water to cool and rinse it out.
Let me tell you, it has done wonders for my hair!
My hair is thin, straight, flat, and unmanageable most days. Ever since I started using ACV, it has body, and texture, and feels super soft!
It's acidic so it can help balance your scalps and hair's PH. It can be overdone though, so I only use it 2 times a week. Another note: it can burn your scalp so always mix it with some water before applying!
So, although this wasn't technically a skincare tip, it works with my routine, so I thought I'd share it 🙂
---
Also Read: Simple Bathroom Swaps for Natural Wellness
---
Dr. Bronner's Castile Soap
By now, you know about my love for Dr. Bronner's.
It shouldn't be a surprise that it's part of my skincare routine! I use it as a face wash in the shower with a loofah. Honestly, it's the only face wash I've used that doesn't make my pale skin red, blotchy, or irritated. It works really well as a body wash too! It also helps reduce acne!
Jade roller
I just recently added a jade roller to my skincare routine and I wish I would have added it sooner!
They are used to increase circulation, reduce swelling and inflammation, stimulate the lymphatic system, tighten pores, and reduce the appearance of fine lines and under-eye circles.
At least 30 minutes before I shower, I throw it into the fridge so it gets chilled. If you think about it stick it in the fridge before bed so it's chilled and ready for your morning shower!
The chilled stone is so soothing. Just roll over your face starting at your forehead down to your chin and/or neck. Roll the same spot 4-6 times before moving on.
Shea butter
Shea butter is amazing! It nourishes your skin, reduces inflammation, and has high concentrations of fatty acids and vitamins which help to tone and soften skin. I use it as is, but a lot of people will mix it with coconut oil and essential oils. I've done this, but I prefer plain ol' shea butter.
After Dry brushing and showering, I feed my skin shea butter. This is a whole-body affair, although if you have oily skin, skip your face. Does anyone use a natural face moisturizer that works for oily skin? – Let me know in the comments!