---
This post may contain affiliate links. Read my disclaimer here to learn more.
---
Everyone does laundry! It's the one thing we all have in common.
Did you know that conventional laundry detergents are actually toxic?
They are toxic to humans and the environment.
The chemicals in conventional laundry detergents wash away into our water ways which cause problems for aquatic organisms and algae. They have cancer causing properties for humans and can cause rashes and other skin irritants. The scents used in laundry detergents, fresheners and softeners cause our bodies harm as well.
More reason to make your own
I'm allergic to most chemicals. I break out and am left with dry skin. I tried using a detergent that didn't contain scents or dyes. Not long after the switch I started breaking out again..
Detergents using natural ingredients are available to buy at stores. My experience is that they are too expensive for the amount you're paying for
It was a no brainer to make our own!
Since making my own detergent, I no longer get those terrible breakouts. My clothes smell good and seem cleaner. I wish I would have made the switch sooner.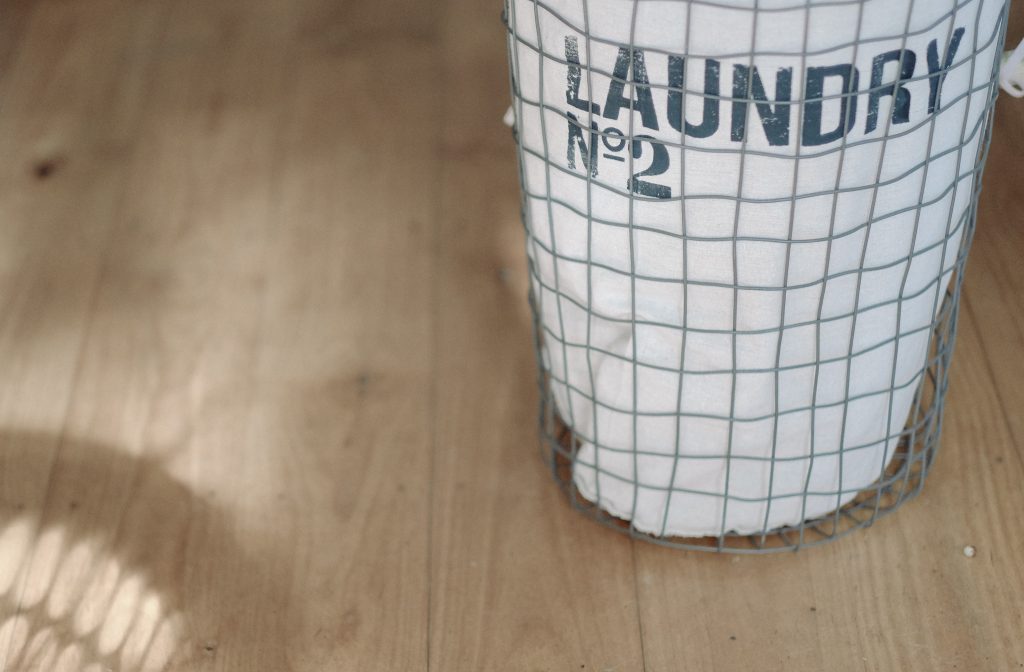 Making your own detergent isn't hard and you can feel good knowing exactly what's in it – Plus you can use it in HE washers as well!
I have tried several homemade detergents and one day I realized that we use Dr. Bronner's Castile Soap to clean everything else in our house, why not use it to clean our clothes as well!
On their website Dr. Bronner's says to use 1/3 cup – 1/2 cup Castile soap and 1/2 cup vinegar in the rinse cycle. This works for a full load of laundry.
This method works if you are in a pinch. I can't recommend using it regularly though.
The methods I use to make laundry detergent don't contain borax. I know there isn't any hard evidence to prove that it's toxic. I've seen evidence of it being a skin irritant and causing rashes.
---
---
There are two methods I use to make detergent. I prefer the first method, but both work great.
If you have leftover gallon milk jugs or vinegar bottles, use them to store your homemade detergent!
Use wool dryer balls in the dryer to complete your natural laundry routine.
Method 1
Method 1 uses Salt, Castile Soap and Baking soda.
The salt prevents colors from fading and bleeding.
Baking soda leaves your clothes brighter, fresher and smelling clean.
Liquid Laundry Detergent
This method uses table salt which will prevent colors from fading.
Materials
1 cup Liquid Castile soap any scent
1/3 cup Table salt
1 cup Baking soda
3 cups Water
5-10 drops Essential oil (any scent) optional
Instructions
In a large pot over medium heat warm the water
Add the baking soda and salt, mix until dissolved.
Add the castile soap and mix well.
Pour mixture into an old container or milk jug that has a lid.
Add water until the jug is full, shake well.
Notes
Use 1/2 cup per load. If you have a HE washer use 1/4 cup per load.
Shake well before use.
This method yields 40 loads
---
Method 2
Method 2 uses Washing soda, Baking soda and Castile soap.
Washing soda softens the water and helps neutralize odors.
Homemade Laundry Detergent
This method uses washing soda which helps soften water and reduce odor.
Materials
2/3 cups Washing soda
3 tbsp Baking soda
1/2 cup Liquid Castile soap any scent
6 cups Hot water
5-10 drops Essential oils (any scent) optional
Instructions
Heat water in a pot over medium heat.
Mix washing soda and baking soda until dissolved
Add the Castile soap, mix until blended.
Transfer to a jug. Shake well before use.
Notes
Use 1/2 cup per load. If you have a HE washer use 1/4 cup per load.
This method yields 15 loads.
---
---
Which method do you prefer?
---
You might also like
---
---
Share this